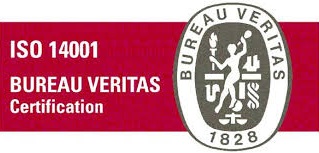 ISO 14001 CERTIFICATION
In April 2016, DNT Non Woven Fabrics was awarded the ISO 14001 certification by the renowned certifying authority Bureau Veritas.
In DNT Non Woven Fabrics, we are aware of the fact that the environment surrounding us is our responsibility. That is why we take very seriously our responsibility in taking care of the environment.
All levels of the company are committed to this aim and work in order to obtain maximum optimization of resources, reduce waste production and reduce the ecological impact of our activity.
Our commitment is essentially based on 3 pillars:
Reuse of material: thanks to the reextrusion process of the non woven, we manage to reuse the material.
Waste reduction, being the level of waste lower than 1%.
Responsible Purchasing: we prioritize purchases with those suppliers with responsible fulfilment of environmental regulations.